Trailer Tents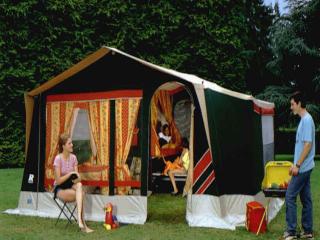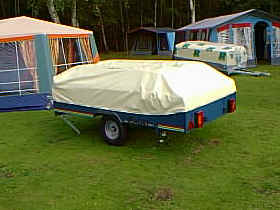 We stock trailer tents from two major manufactures and have up to 10 models erected on display for you to see a sample of which is shown on this web site.We also try to keep a good selection of second hand units although it is best to contact us first for details of what is available.
It is very difficult looking at a screen to appreciate the size of the units and the luxury that they give to your camping holiday, however a visit to see us is well worth it.
Raclet Trailer Tents
Raclet have been making trailer tents for over 25 years now in their factory in France and have now perfected the art...so much so that they also bolt together the trailers there for Jamet and Trigano
Raclet provide us with a list of about 20 points that point out their features and benefits. Listed below are just a few.
These have a one person cabin erection system which are very simple to erect with no poles to join and connect.

Extra thick 4" mattress

Insulated bed boards

Moisture resistant band around the cabin

All pegging points are flag stitched reinforced

Top quality canvas

Alternative "Easy Fold" Cabin system when the canvas is wet

YKK zips used all round
Sunncamp Trailer Tents
New onto the market place two years ago Sunncamp trailers are based on the tried and tested Conway design. Although a little bit more fiddly to put up in the cabin they do offer more storage space in the trailer due to the fact that they use a 'strap on' kitchen system. These trailers are made in the UK with the canvas and pole work imported and then the finished unit is assembled in the UK.
Below is a list of some of the Trailer Tents that we offer and more will be added as this web site develops.
Please click on the relevant trailer for more details
Don't forget to email us or phone (01708) 722937 for more information on other models we stock