Sunncamp Holiday 500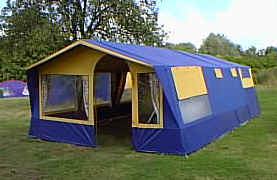 The biggest yet of all the Sunncamp Trailer tents the Holiday 500 has an unbelievable 5 metre deep awning. This awning is so big it will allow the children to run around and at the same time they won't get under your feet.
This awning is made so big due to an extra zip in section included in with the unit but as it is a zip in section it means that if you are going away for a short break you do not have to put up all the awning just the main 3.5 meter section will suffice.
Also included is a full kitchen unit with Stainless Steel sink and Double Burner Cooker with Grill.
All this size and space for only
£2395.00