Sunncamp Pavilion Plus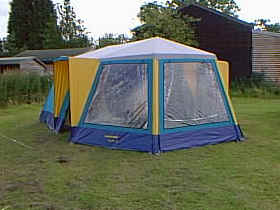 The Pavilion has what is known as a "threepenny bit" shaped front and is a different design for the family who just want that something a little bit different.
On of the major benefits of this tent is that all 3 front windows have zips to allow the whole front to rolled up on sunny days and let a breeze pass through the tent. The front windows also allow lots of light to flood into the tent so even on those dark days it's nice to sit inside. The kitchen area also has close off curtains to allow you to "hide" the dishes.
£515.00