Frame Tents
An Overview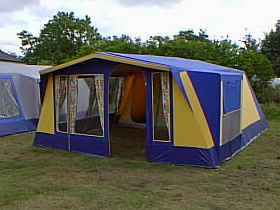 A Frame Tent usually comprises 3 major parts
A steel or aluminium alloy frame which connects together to provide a stable structure on which to place the canvas.

The canvas. This covers the frame and is normally made of of a proofed cotton and will be made up of window panels and doorways etc.

The inner tents which hang from the frame inside the main canvas and include a sewn in groundsheet to keep your bedding dry
You may also find that your tent has a roof lining which helps to insulate the roof of the tent and absorb condensation as well as hiding the roof framework.

Manufacturers and Origin
There are now three main sources for frame tents available on the UK market and were the tent comes from is normally related directly to quality and price however there are always exceptions to the rule
France
The French have been making tents for a long time now and seem to have got the products down to a fine art and the quality of their product is normally the best that you can buy. French tents do tend to have certain characteristics that help to keep there prices competitive rather than compromise on quality. They generally have sloping walls all round to save on the more expensive roof material and some times cut out the number of windows in order to save on production costs
England
Lichfield is now the only major manufacturer providing frame tents made in this country. Lichfield make good solid tents but generally are to a basic standard as far as frills go in order to keep there prices competitive with other people and now import some of their canvas from China to help keep costs down against the high UK labour charges.
China
Six years ago it would have been nearly impossible to find a Chinese made frame tent in this country however the Chinese are now the largest suppliers of frame tents into the UK market place. The quality of these tents gets better every year however it is not quite up to the standard of the French yet. Due to low production costs Chinese tents usually have a lot more features than French or English made tents and in general represent excellent value for money

Prices and Details
At P J Camping we stock models from Raclet and Sunncamp in the main however we can usually obtain tents from other major manufacturers as well.