Trailer Tents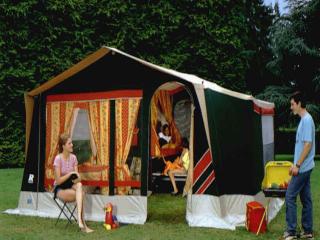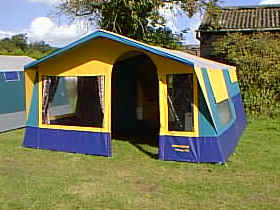 We stock trailer tents from both Raclet and Sunncamp and in peak season will have up to 11 different types of unit on display. We do also try to keep a good selection of second hand units however it is always best to contact us first to see what is available.
Of course looking at a screen can never give you the full picture of these units and we would recommend a visit to us before you consider purchasing.
Raclet Trailer Tents
Raclet have been making quality trailer tents for over 30 years at there factory in France and in fact are so good that they also do allot of production work for other manufactures on a sub-contractor basis.
Some of the features of Raclet trailer tents are as follows:
They have a one person cabin erection system with no poles to join or connect.

Extra Thick 4" mattresses.

Insulated bed boards.

Wind down corner steadies for ease.

All pegging points are flag stitch reinforced.

Top quality canvas.

Alternative "Easy Fold" cabin system if the canvas has to be packed wet
Sunncamp Trailer Tents
Two years ago Sunncamp decided to follow the huge success of there frame tents by introducing a range of trailer tents. The trailers are based on the tried and tested 'Conway' design which is much more simple as a design compared to Raclet but by return can make the units a little more time consuming to erect.
Whatever may be said about Sunncamp trailer tents there is no disputing the fact that they are excellent value for money.
Below is the range of trailer tents that we stock, please click on the relevant link for more details and please don't forget that if you want further information or details you can always email us or telephone 01708 722937.
All prices exclude ex works delivery unless otherwise stated.