Raclet Taiga 3 & Taiga 4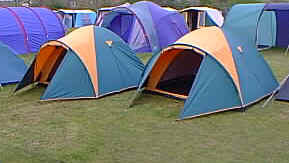 The Raclet Taiga's are a in striking colours and benefit from being in cotton for longer life and better breathability and therefore less condensation.
Based on a popular design with a main dome and front porch area, the 3 and 4 berth Taiga tents from Raclet are well put together and are excellent value for money for a cotton dome tent. Being cotton the tents suffer less from UV degradation than the normal nylon or polyester used in dome tents. Although cotton takes a little more care to look after in the long term they are a good investment when used for extended periods of time.
Taiga 3 £89.00
Taiga 4 £99.00