Frame Tents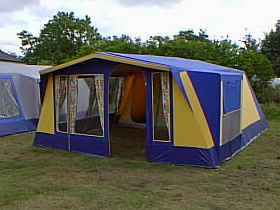 On a separate page we have tried to provide you with a general overview of what makes a frame tent and some of the different types available. Please follow this link to find more information.
Listed Below is a price List showing the range of frame tents that we stock.
We always try to keep all of the tents listed in stock however if you are coming from a distance please telephone first to check availability.We can normally obtain most makes and model of frame tents and if the tent you are looking for is not listed here please feel free to get in touch.
As you can see at the moment only a selection of the tents listed have links to further information on this site, obviously this will change as the site develops.
Please remember that if you want further details then don't forget you can email us or phone (01708) 722937
| | | | | | |
| --- | --- | --- | --- | --- | --- |
| Model | Berth | Canopy | R/L | W/R | Our Price |
| Villa 3 | 3 | Stub | n | n | £139.00 |
| Villa 4 | 4 | Stub | n | n | £169.00 |
| Villa 5 | 5 | Stub | n | n | £209.00 |
| Baladin 4 C | 4 | Stub | n | n | £219.00 |
| Marina 5A | 5 | Full | n | n | £209.00 |
| Baladin 5 AC | 5 | Full | n | n | £259.00 |
| Capri | | | | | £199.00 |
| Capri 5 AC | 5 | Full | y | y | £369.00 |
| Ritz 5 | 5 | Full | y | y | £399.00 |
| Jamaic 5 | 5 | Full | y | y | £599.00 |
| Continental 4 | 4 | Stub | n | n | £285.00 |
| Equinox 4 | 4 | Stub | n | n | £399.00 |
| Eden 6 | 6 | Stub | n | y | £315.00 |
| Continental 6 | 6 | Stub | n | n | £279.00 |
| Continental 6 Package | 6 | Full | n | n | £325.00 |
| Hilton | 6 | n/a | y | y | £549.00 |
| Equinox 6 | 6 | Stub | n | y | £399.00 |
| Athenee 6 GBC | 6 | Stub | y | y | £539.00 |
| Athenee 6 GBC AV | 6 | Full | y | y | £559.00 |
| Cottage | 6 | Stub | y | y | £429.00 |
| Sicily | | | | | £449.00 |
| Chateau | 6 | Stub | y | y | £499.00 |
| Chateau Package | 6 | Full | y | y | £525.00 |
| Pavilion | 6 | Door | y | y | £515.00 |
| Grange | 6 | Stub | y | y | £569.00 |
| Capricorn | 6 | Stub | y | y | £729.00 |
| Palace | 8 | Stub | y | y | £789.00 |
| Manor | | | | | £529.00 |
| Lodge | 4 | 2 Full | y | n | £389.00 |
| Ranch | 4 | Stub | n | n | £269.00 |
| Cheynne | 4 | Stub | n | n | £369.00 |
| Patrol | 4-10 | n/a | n | n | £269.00 |