Raclet Tribune / Borneo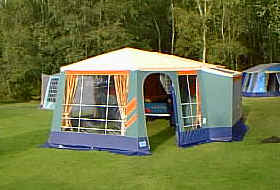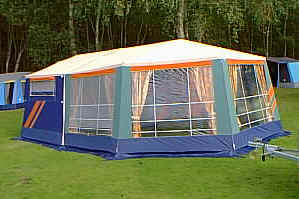 The Tribune and Borneo in there new 1999 colour scheme.
The Tribune and Borneo share the same large light shaped awning and cabin layout however they have two different kitchen arrangements.
The Tribune has the traditional Raclet design of the kitchen being in two parts both of which are stored inside a locked trailer body which ensures safety. Also because the kitchen is in two parts it is easily managed by one person and also quick and easy to assemble.
The Borneo kitchen unit is designed so that it hangs on the back of the trailer body which makes for a longer trailer unit as well as meaning a much more bulky kitchen which needs two people to manhandle the unit, The one major advantage in the Borneo style unit is that it allows more storage space for personal luggage and effects in the trailer well when travelling.
Theses trailer tents also have some of the following features as standard:
Sewn in Groundsheet to the wardrobe area

Wind down corner steadies

TenCate Canvas "The World's Best Tent Cloth"

Spare Wheel and Carrier Included

Roll up front panel

Easy to erect cabin system

"Up Two" Side storage system built into the trailer body (Tribune only)

Cabin windows have 3 way window system.

Front and side doors

Anti mosquito ventilation panel to awning
£2695.00
Price excludes ex works delivery
Back to trailer tent price list